Ipsy March Bag- What Did I Get?
**Affiliate Links**
Ipsy March Bag
MARSK Eye Shadow
The color I got is lucky penny. It is a loose mineral powder and it is cruelty free!! Yeah!! It is suuuper pigmented and can actually be used wet or dry.
Fun thing about these colors are when you use them wet, they become really pigmented and then can be pulled out with the dry shadow to create the perfect smokey eye or you can use it with a skinny brush as a liner.
Chella Highlighter
This is your regular highlighting chunky pencil. I really liked this product. You can use your highlighting pencil in soooo many different ways. The color is ivory lace.
I use this under my brow for a little lift (and some times to cover in between tweeze/wax), on my outer part of my water line and inner corner of my eye and of course down the middle of my nose for the oh so famous contouring. I also can use to this cover up any mistakes that I make afterwards just like I do with my concealer.
Sexy Hair Soy Renewal Creme Oil
So, I am not so happy with this product because I will probably never use it. I am suuuuper picky with my hair products because I have super picky hair. It is ultra thick, color treated and I use heat on it every day. This product is for fine to normal hair and and is an extra oil to help with conditioning. Just something that is not for me and will not fit into my normal routine. It is made from soy, cocoa and argan oil.
Dr. Brandt Pores No More Anti- Aging Mattifying Lotion
Unlike the last product, I looooove this one! I am such an anti-aging junky it's not even funny. This is made with apple stem cells and is based on the premise that "an apple a day keeps the doctor away". This also contains retinol (which you know I love)
The retinol helps with the fine lines and wrinkles. I am super excited about the pore minimizing and mattifying part of this. This may be the product that I buy more of!!
NYX Cosmetics Butter Lipstick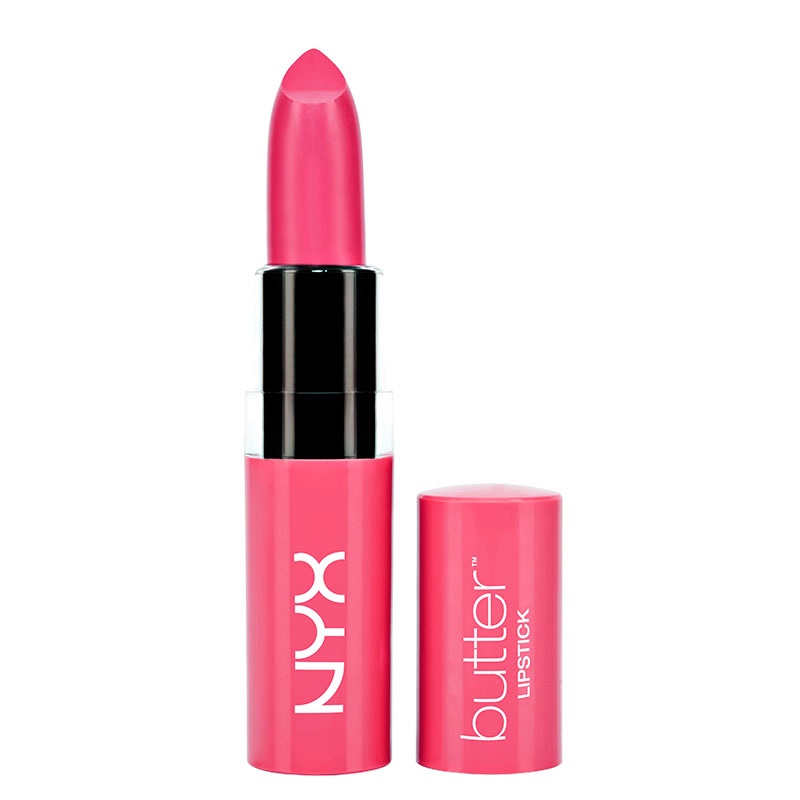 I got this lipstick in the color Little Suzie. I lost my picture I took, so I am using the one from Ispy but the swatch below shows what I looks like. The Butter collection has 22 colors and is supposed to have an even satin finish. It was a little rough when I applied it on my hand, but with a little gloss it was it smoothed out on my lips.
Overall, this was an ok lipstick. I usually like NYX lipsticks, but this was not my favorite. I really like the color and I really like it on me but I did not like the reapplication rate or how rough it applied. Maybe I just need to moisturize a little more OR maybe this darn cold weather NEEDS TO STOP!!
**Bonus**
Someone asked what my City Color Creamy lip stain from the
February bag
looked like on my lips. Well, here you go.... I love it! It is soooo pink and super sexy. The staying power is ok and once it's on for a little bit the tackiness of the gloss goes away and the stain stays. I really like the color!